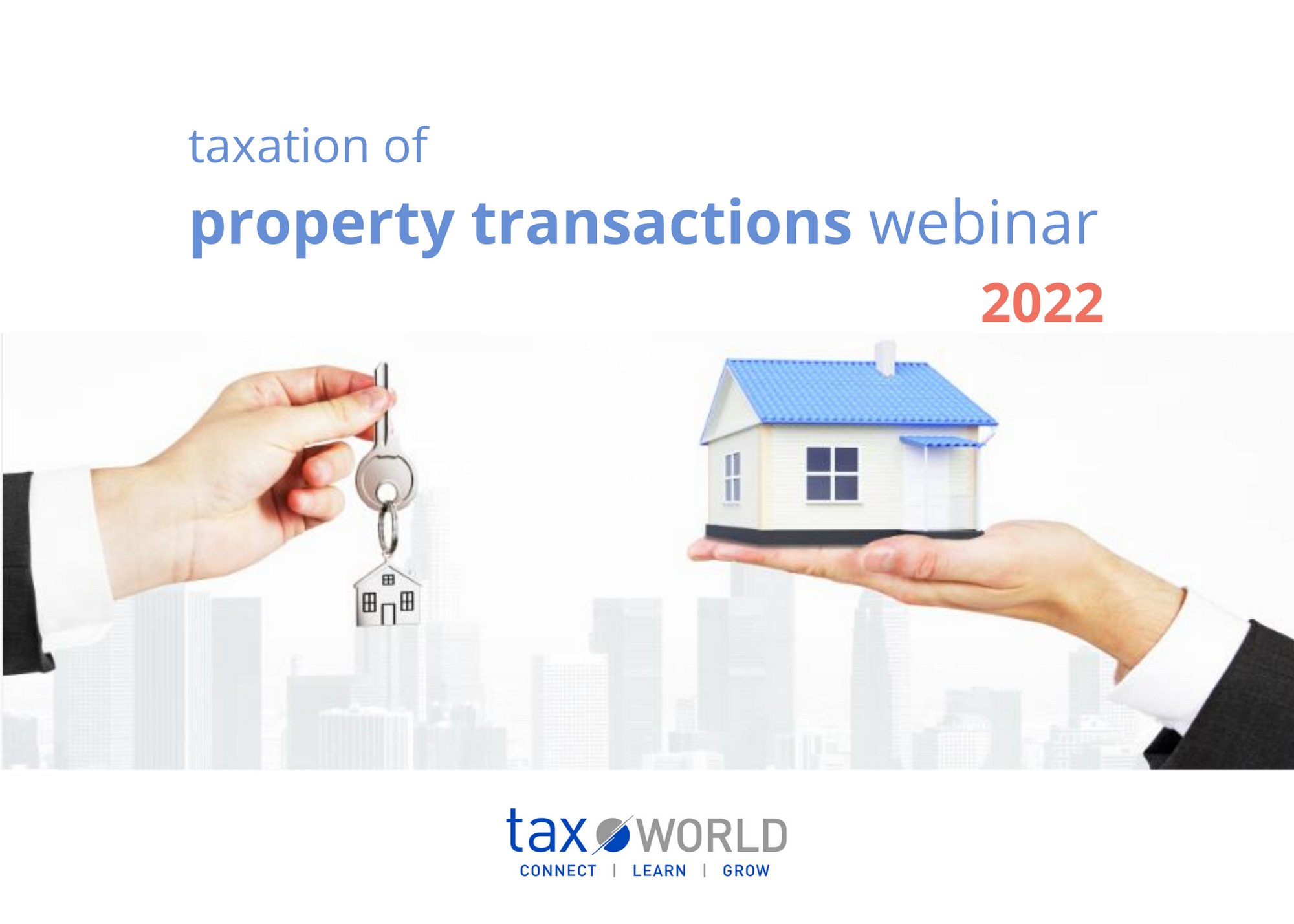 Recording available
This live event took place on 23 and 26 September 2022

You can purchase a single person access for €275 to the recording of the webinar by completing the form.
We will invoice you and we will send you the links when the invoice is paid.
Individuals: renting, investing, trading
Friday, 23 September, 09:30 -13:00, 3.5 hours CPD
1. Investing or trading?
What is trading?

Land transactions - investing or trading?

The badges of trade

Stamp duty -multi-unit purchases - s 31E, 83D, 83E, 83F

Local property tax (LPT)

Residential Zoned Land Tax (RZLT)

Case study
2. Investing in property
Rental income

Calculation - interest - unpaid interest

RTB - Section 23/50 - 372AP(8)

Pre-letting expenses

Premiums on leases

Wear and tear allowances - What is plant? What are repairs? What are improvements?

Farm land leasing exemption

Rent-a-room relief

Acquiring through pension fund

Non-resident landlord - authorised agent

CAT -CGT offset

Transfer of site from parent to child

CGT

Disposal, part disposal, capital sum derived from asset

Proceeds - Acquisition cost - Indexation - Time of disposal

Market value rules - Enhancement expenditure - Losses

Compulsory purchase - Compensation and insurance

Seven year exemption - Residence exemption

Development land - Capital allowances and s 23

Leases - Tax clearance - Foreign tax credit
3. Trading in land or buildings
Build to sell, buy to sell

Allowable deductions

Commencement rules

Transfers to and from trading stock

Valuation on cessation

Profits from land dealing

Debt forgiveness

Case study
4. VAT fundamentals
Property development - no registration threshold

Sale of property - checklist - when does VAT apply?

Development of immovable goods - checklist

Fixtures and fittings - VAT

Lettings - Option to tax (OTT)

Capital Goods Scheme (CGS)

Case study
Q & A
Companies: renting, investing, trading
Monday, 26 September, 09:30 -13:00, 3.5 hours CPD
5. Incorporating a rental portfolio
CGT - possible solutions

Transfer of business to a company

IREF, REIT structures

Case study
6. Rental v trading income
Avoiding rental surcharge

Undistributable income

s 434(3A) election

Group relief

Trading income - hotels, B&B, AirBNB

Provision of emergency accommodation

Chargeable gains - allowable losses

10% CGT rate

HoldCo exemption - s 626B

Stamp duty - group (s 79) and reconstruction (s 80) relief
7. Trading in property
Transfers to and from trading stock

Profits from new build property - 12.5% rate

Sale of non-fully developed property - 25% rule

Relevant contracts tax (RCT) - conditions, tips and traps

Case study
8. VAT - Practical issues
Transfer of business relief (TOB)

Receivers, liquidators and mortgagees in possession

Joint option to tax - right thing to do?

Waiver of exemption - timing

Pre-contract VAT enquiries (PCVE)
Q & A
Our panelists are:
Alan Moore from Tax World Ltd

Jimmy Rynhart - VAT consultant - RCR Business Services

Gary O'Mahony - Managing Partner with O'Hara Dolan & Co.
| | | |
| --- | --- | --- |
| | after | 31/08/2022 |
| | 1 seat | 3 seats |
| non-premium- member | €275 | €550 |
| premium member | €225 | €450 |
Not a premium member? click here to join.
Want to know more?
Download the PDF brochure - watch the video!
Fill in the form to attend the Taxation of Property Transactions 2022 webinar